Mindspeak
by Heather Sunseri
Seventeen-year-old Lexi Matthews keeps two secrets from her elite boarding school classmates—she's the daughter of a famous and controversial geneticist, and she can influence people's thoughts.
But after new student Jack DeWeese heals her broken arm with an anything-but-simple touch, he forces Lexi to face a new reality—her abilities reach much further than speaking to the minds of others.
(Goodreads description)
This is a fun, fast-pasted, action-packed novel. While it centers around genetic work and stem cell research, Mindspeak never takes sides on the controversial issue; it simply asks, "What if?" And it's set in present-day, which I appreciated more than I initially thought I would.
Lexi is a very relatable, realistic heroine, though I'm still questioning many of the others' motives. My number one complaint, though: the ending felt like a marketing ploy for book two. Instead of stopping where I thought there was closure and plenty of loose ends, the author went on to write a sloppy cliff-hanger.
Welcome to Last Chance
by Cathleen Armstrong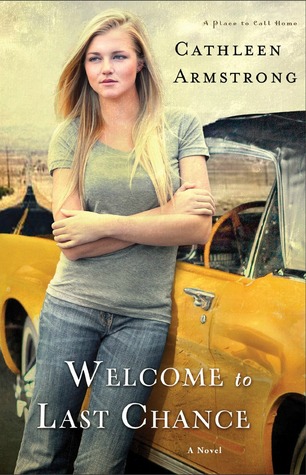 The red warning light on her car dashboard drove Lainie Davis to seek help in the tiny town of Last Chance, New Mexico. But as she encounters the people who make Last Chance their home, it's her heart that is flashing bright red warning lights. These people are entirely too nice, too accommodating, and too interested in her personal life for Lainie's comfort-especially since she's on the run and hoping to slip away unnoticed.
(Goodreads description)
Welcome to Last Chance was
rather cliche, predictable, and cheesy (and about 100 pages could have been added to the end, or even a second book), but I was pleasantly surprised by the tactfully done religious parts. No 180-degree conversion scene accompanied the insta-romance. Overall, I enjoyed it as a good fluffy vacation read.
Call of the Herald
by Brian Rathbone
Echoes of the ancients' power are distant memories, tattered and faded by the passage of eons, but that is about to change. A new dawn has arrived. Latent abilities, harbored in mankind's deepest fibers, wait to be unleashed. Ancient evils awaken, and old fears ignite the fires of war. When a Catrin Volker, a teenage horse trainer, inadvertently fulfills the prophecy of the destroyer, she becomes the most feared and hunted person on all of Godsland. With the help of her friends, she must convince the world that she wants only peace.
(Amazon description)
Although this book seemed rather unpolished, I still really enjoyed the story. The usual farm-boy-goes-on-adventure tale is told from a new perspective with a female protagonist, and refreshingly realistic bumbles occur along the way. Catrin does become far too comfortable with her new-found power far too abruptly, and the dialogue often comes across as rather forced and unnatural. But I loved the characters and the humanity in Call of the Herald, and I look forward to its many sequels (seriously--there are nine books in this series!).