by Veronica Roth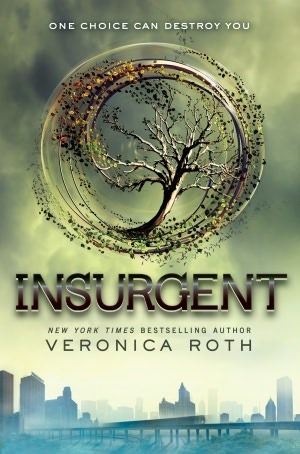 from the cover
Tris's initiation day should have been marked by celebration and victory with her chosen faction; instead, the day ended with unspeakable horrors. War now looms as conflict between the factions and their ideologies grows. And in times of war, sides must be chosen, secrets will emerge, and choices will become even more irrevocable—and even more powerful.
Transformed by her own decisions but also by haunting grief and guilt, radical new discoveries, and shifting relationships, Tris must fully embrace her Divergence, even if she does not know what she may lose by doing so.
my rating
my review
This second novel was at least as good as the first, but with more character depth. The black-and-whiteness of Divergent became a muddled grey which, though it made my brain hurt, I loved.
"...our society is not divided into 'good' and 'bad.' Cruelty does not make a person dishonest, the same way bravery does not make a person kind. [This person] is not good or bad, but both."
One thing I disliked, though: Tobias and Tris have multiple melodramatic episodes throughout, which just seem awkwardly and immaturely handled. It almost seemed out of character at times.
the movie
IT WAS HORRID. They took all that was good in the book and did the opposite. Whereas Tris should have been struggling with grief and guilt to the point of not being able to touch a gun without going into shock, the movie Tris is a killing machine. Not to mention the entire plot was mutilated almost beyond recognition. I'm ok with a few changed and/or omitted details, but I can count on one hand the things the movie producers got right. If you still want to see Insurgent, wait a few months and rent it. It's not worth the cost of a movie ticket.