by Thomas Hardy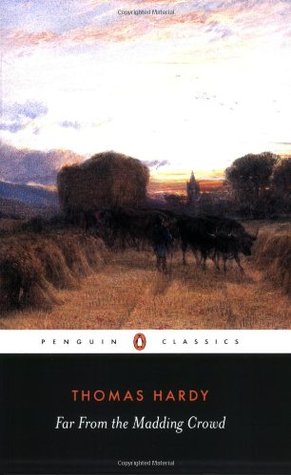 (The cover of my book actually looks nothing like this. It's an ancient, yellowing, white paperback with a line drawing of Bathsheba on the front that I borrowed from a bookshelf in the lunchroom at work. Also, I originally thought the title was Far From the Maddening Crowd. Oops.)
from Goodreads
Independent and spirited Bathsheba Everdene has come to Weatherbury to take up her position as a farmer on the largest estate in the area. Her bold presence draws three very different suitors: the gentleman-farmer Boldwood, soldier-seducer Sergeant Troy and the devoted shepherd Gabriel Oak. Each, in contrasting ways, unsettles her decisions and complicates her life, and tragedy ensues, threatening the stability of the whole community.
my rating
my review
I don't like classic literature, and I despise love triangles (not to mention squares). And yet I not only read this book, but I even enjoyed it.
Thomas Hardy is a remarkable author, writing with an almost poetic fluidity and adding just enough description to his captivating plot to paint a vivid picture. I'll admit, though, that it did take a few chapters for me to settle into his older style of language.
As the above description suggests, the protagonist of this story is a remarkably strong female character, especially given the time period Far From the Madding Crowd was written in. She runs a farm on her own in a society where all farmers are men, and cares little of the men's opinions of her. Aside from one ill-conceived prank, she seemed to have a level head on her shoulders and was far from the silly girl we too often see in love square/triangle situations.
To avoid any spoilers, I'll refrain from stating my full opinions of the three suitors. I can't help but say, though, that shepherd Oak was from the start my favorite character.
If, like me, you want to expand your reading horizons and pick up a few classic novels, this is as good a place as any to begin.