The Dragon Keeper (Rain Wild Chronicles #1)
by Robin Hobb
Too much time has passed since the powerful dragon Tintaglia helped the people of the Trader cities stave off an invasion of their enemies. The Traders have forgotten their promises, weary of the labor and expense of tending earthbound dragons who were hatched weak and deformed by a river turned toxic. If neglected, the creatures will rampage--or die--so it is decreed that they must move farther upriver...
Thymara, an unschooled forest girl, and Alise, wife of an unloving and wealthy Trader, are among the disparate group entrusted with escorting the dragons to their new home. And on an extraordinary odyssey with no promise of return, many lessons will be learned...
(from the back cover)
This novel was every bit as wonderful as its beautiful, simple cover suggests. The narrative seemed a little detached, at times -- I didn't relate well to many of the characters -- but I loved Thymara and Alise, and reading the novel from multiple perspectives (yes, it alternated between more than two) was fascinating and surprisingly easy to follow. And goodness, what a unique plot! If the front cover didn't convince me to buy this book, the back certainly did! You may or may not have seen my flailing on Goodreads over the discovery that
The Dragon Keeper
is one of 16 books set in the same world, with characters that overlap here and there... I will definitely be reading more of Robin Hobb!
4/5 leaves
Only the River Runs Free
(The Galway Chronicles #1)
by Bodie and Brock Thoene
It was four o'clock on the afternoon of December 24, 1841, in the village of Ballynockanor, County of Galaway, Province of Connaught, Ireland. It was after mass on the first day of Advent that the old woman, Mad Molly Fahey, had told Father O'Bannon (as well as ever farmer, farmer's wife, and child) that a great miracle was coming to visit the poor of Ballynockanor....
When a stranger crosses the river and enters the village on Christmas eve, Molly proclaims that he is the herald of freedom and change. Is this quiet man the spark that will stoke the fires of Irish nationalism and bring freedom in a troubled time? Or will he bring the destruction of an entire way of life?
(from the back cover)
I really enjoyed learning more about Ireland's history -- specifically, the tension between Catholics and Protestants -- through this novel. Bodie and Brock Thoene have a wonderful talent for painting vivid characters that help bring a story to life. However,
Only the River Runs Free
has a strong emphasis on politics, and I found it a bit boring in places. Although I enjoyed it overall, I might stick with the Thoenes' biblical fiction in the future (The A.D. Chronicles is amazing).
3/5 leaves
Graceling
(Graceling Realm #1)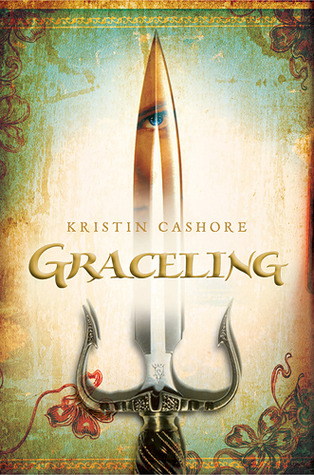 Katsa has been able to kill a man with her bare hands since she was eight -- she's a Graceling, one of the rare people in her land born with an extreme skill. As niece of the king, she should be able to live a life of privilege, but Graced as she is with killing, she is forced to work as the king's thug.

When she first meets Prince Po, Graced with combat skills, Katsa has no hint of how her life is about to change.



I have some mixed feelings about this one. The first three chapters consisted mostly of info-dumping, and I was afraid I'd embarked on a very long, boring journey. But it got better! Katsa fleshed out and became human and relatable, humor reared its fuzzy blue head, violence was questioned, tension built, bad things happened, happy things ensued... In the end, I think it's safe to say I really really liked it. I love Katsa and Po and Raffin. And I'm really enjoying the sequel, Bitterblue, so far.

A caution, though: There is one paragraph of sexual content, and the overall morals regarding sex are a bit questionable, which is especially disappointing in light of the wonderful morals surrounding killing. I'd almost label Graceling New Adult rather than YA, due to the content.